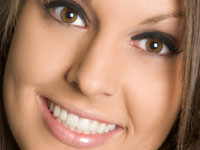 Invisalign ® is the modern alternative to traditional metal dental braces. Fountain Valley orthdontics dentist Dr. Andrew Mortensen can discuss how this nearly invisible system will transform your life - and your mouth - in just a short time.
Going through life with crooked or gapped teeth is embarrassing and could even hurt your professional or social life. Whether you're a teenager or adult, you can avoid the "metal mouth" look associated with typical braces by selecting invisible braces.
At Andrew G. Mortensen, DDS, Inc. you now have the option to make it less obvious to everyone that you're having your teeth straightened. We will fit you with a series of custom-made clear braces, or aligners, that will help straighten your teeth gently over time. And this tooth-alignment system is even removable when you want a flawless smile for a special occasion.
Don't wait another day to check it out! The sooner you get started, the sooner you'll be flashing a smile you're proud of.
Call our friendly staff at (714) 964-4183 or stop in to arrange for an initial consultation. Our goal is to provide all our patients with affordable, high-quality dental care and we'll be pleased to explain all the different financial options that may be available to help cover Invisalign cost!